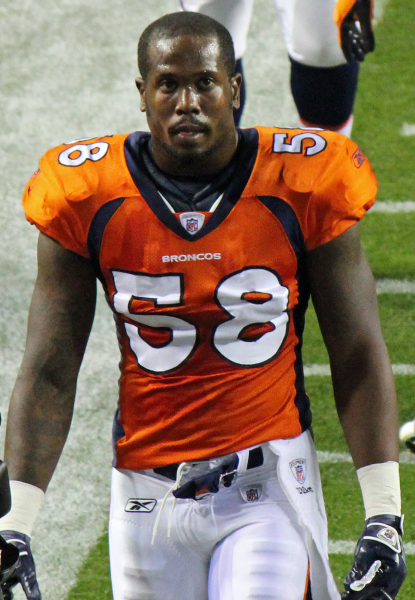 Linebacker training: Von Miller's high-intensity football workout
by Matthew Jussim via mensfitness.com
Denver Broncos linebacker Von Miller is always crushing it. So his rise to the top of the crop in the NFL—he's the the highest-paid defensive player in history—is no fluke. When it comes to hitting the gym, the linebacker is laser-focused on his training.
What sets Miller apart from other defensive players in the league is his speed for a man his size: The 6'3'', 250-pound linebacker put up a 4.49-second 40-yard dash time in his pro day workout, faster than Carolina Panthers quarterback Cam Newton and nearly as fast as Pittsburgh Steelers receiver and return man Antonio Brown. Miller's agile, too: His 11.15-second 60-yard shuttle time ahead of the 2011 NFL Draft broke the combine linebacker record.
That speed comes from his hard work in the gym on his lower body: "Core and legs are always the priority for me," Miller says. During the offseason, he works out three to five hours per day (broken up into multiple workouts), and he's a fan of high-intensity training to help keep his fat burn high and rev up his metabolic engine. "One of my favorites is pulling a tire," Miller says. "I also enjoy the different explosive jumping movements with the acceleration and deceleration drills we do."
But if there's one area Miller especially hammers, it's his hips, which ensure he stays explosive. He thinks functional movement workouts are a major key to his success: "Everyone is strong," Miller says. "But if I can move better and activate the right muscles at the right times, that gives me an advantage."
Read Full Article
To use Von's training principles, try out any of TRIBE's Power classes. They are high-intensity and functional movement workouts that target specific muscle groups to raise your metabolic rate and keep your endurance and stamina up!
Book a Class