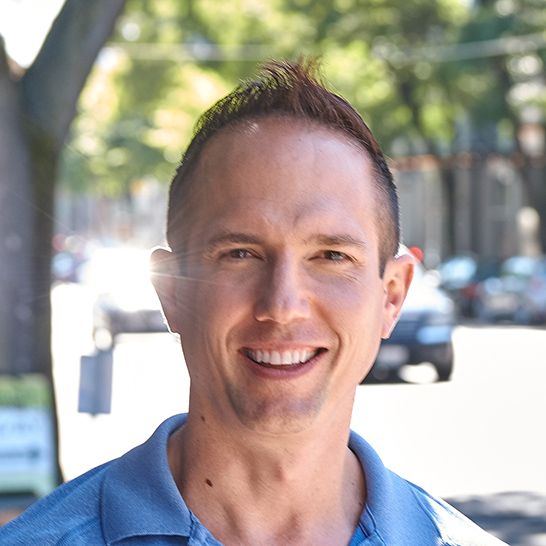 David brings his extensive knowledge and body awareness to each class he teaches. As one of the NICEST people you will ever meet, clients love the fun and happiness that come from a David session!
Originally from:
Richfield, Utah
Currently live:
Capitol Hill
Everything you teach (are certified in):
I am certified in Pilates Reformer and Mat Pilates (test results pending), including beginning and advanced. As a Certified Personal Trainer, I hold four certifications from the National Academy of Sports Medicine. I also have a TRX Suspension Trainer and a PiYo certification. I have taught HIIT, Power Reformer, TRX, Foam and Stretch, and Fit Recess at LAB5. Currently I teach Tone and Stretch and Reformer Pilates.
Other job(s)?:
I am a fitness writer for a new fitness app (top secret). I used to be a Certified Public Accountant, but I have finally fully transitioned to fitness work.

When/where did you first discover Pilates/Barre/TRX/etc?:
My wife introduced me to YouTube videos from Cassie Ho. Cassie Ho's videos are hilarious, and I was quite surprised at the intensity of the core work. After a neck injury following YouTube routines, I decided that I needed to take Pilates only from well qualified instructors. LAB5 subsidized my Reformer and Mat teacher training, which I recently completed, and the rest is history!
Favorite class you teach:
Reformer Pilates, the core work is intense!
Favorite past time:
Pokemon Go!
Hobbies:
Cycling, running, karaoke
Family/pets:
I am married to a wonderful woman named Kelly, who has two of the world's cutest chihuahuas, Wally and Trixie (Trixie is short for Bellatrix LeStrange).
Hidden talent:
Music! I play drums and some piano, and I used to be a sing barbershop.
Something not many people know about you:
I traveled all over the Northwest as a belly dancing drag queen for charity events. While dressed as Lady Gaga, I once performed on the stage in front of TRIBE during the Capitol Hill Pride Fest.
Mantra:
Carpe Diem! Seize the Day!
Anything else you might want the Tribe members to know about you:
I have traveled to a dozen countries and I used to live on Waikiki!

Book a Class with David