Arden Plank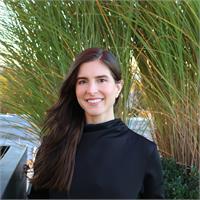 Arden is originally from San Diego. She graduated from UCLA where she obtained a double degree in dance and English Literature. About a year after graduating she realized how much she missed moving around every day which brought her to a teacher training program at Pilates Sports Center.
Arden brings two-decades of experience and passion for movement vocabularies, including modern dance, ballet, dance improvisation techniques such as Release Technique and Gaga, and yoga to her Pilates teaching.
When she is not dancing or teaching, she loves to paint and hang out with her cats, Moonstone and Stardust.
Arden Plank instructs the following:
This class is a great way to get going with the TRIBE. We're talkin' low-intensity exercise that incorporates traditional Pilates principles, including, some mild strength training and lots of stretching using the unique Pilates reformer springs to lengthen you out.

Seriously, friend. If you're looking for a stress-free intro, a man or woman rehabilitating an injury, or simply someone who wants to focus more on stretching and workout recovery, Tone & Stretch is the place to be. Space is limited to 10 TRIBE members per class. Grip socks required (available for purchase).




This classic Pilates Reformer class focuses on the body as a whole, to increase flexibility, strength, balance, agility, create a stronger core, improved mental well-being and a fuller range of motion. All while turning the abdominal muscles, lower back and hips into your body's powerhouse.

Because Reformer Pilates is a non-impact, balanced technique, it's great for just about anyone—from the super-fit, to beginners to those coming back from an injury. Space is limited to 10 TRIBE members per class. Grip socks required (available for purchase).




Wanna blast your midsection into shape? This is the class for you! Using traditional Mat Pilates protocols (the use of exercise mats instead of traditional Reformer equipment), light weights, resistance bands, and standing exercises, you'll strengthen your body, define muscle, jump start your metabolism, burn fat, and increase your flexibility. All it takes is a little resistance and counter-resistance—and a whole lotta yes I can. Grip socks recommended (available for purchase).