Ashley Gundermann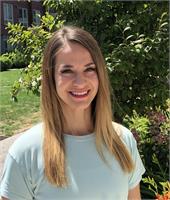 Method: Power Reformer
Ashley is an exercise enthusiast and loves sharing her passion for fitness with others. She is studying to be a naturopathic physician and will graduate from Bastyr University with her ND degree in spring of 2019. In her free time, she enjoys traveling, dancing and practicing aerial silks.
Ashley Gundermann instructs the following:
Power Reformer is our signature class. This high energy workout combines strength training at a non-stop pace, with the core and balance training of a reformer. The pace will keep your heart rate elevated for the full 50 minutes to maximize full-body strength and ensure a high-intensity cardio workout. If you want lean, toned muscles, strength, endurance and fat-burning, this workout is for you. Structured in 15 minute increments covering upper body, legs and core, Power Reformer works every muscle and boosts metabolism, helping you to jack the gravitational forces that even the most dedicated men and women face every day. Space is limited to 10 TRIBE members per class.




HiiT class will be sweaty, challenging, exciting and FUN. This class will start with a dynamic warm up, followed by an ideal mix of strength and conditioning moves interspersed with cardio bursts (aerobic and anaerobic). Each burst will target different parts of the body, and because of the Tabata timing, it makes it easier to push yourself as hard as possible for 20 seconds.




Strong and Lean is an exciting class that is specifically programmed to increase your strength and cardiovascular fitness. We start with strength-specific programming, progressively training fundamental movements: Squat, Deadlift, Pressing and Pulling in various angles. We finish with higher intensity sets of a variety of movements and cool fitness implements including kettlebells, TRX, and medicine balls to to build your aerobic work capacity. It can be tough, but

everyone can do this

, and the results will be true strength, and a lean, highly functional, athletic body. Sneakers recommended.