Mary Daugherty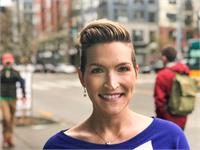 Method: Power Reformer
Mary has been a devoted client of the TRIBE Fitness studio and a dedicated participant in the Power Reformer classes for over 6 years—she BELIEVES in the workout! Being personally involved and interested in fitness and nutrition for many years and having a passion for the Power Reformer method, Mary trained to become a Power Reformer instructor herself. Mary is committed to helping TRIBE clients achieve their fitness goals, stay motivated, and have FUN! Mary is not only an instructor at TRIBE but she also continues to be a client—you will recognize her attending AND teaching classes, because she just can't get enough! Mary's personal workouts include Power Reformer as well as Barre, TRX, kickboxing, spinning, running, and weight lifting. Mary is friendly and approachable—when you see her in class or around the studio, stop and say hello!
Mary Daugherty instructs the following:
This class is a great way to get going with the TRIBE. We're talkin' low-intensity exercise that incorporates traditional Pilates principles, including, some mild strength training and lots of stretching using the unique Pilates reformer springs to lengthen you out.

Seriously, friend. If you're looking for a stress-free intro, a man or woman rehabilitating an injury, or simply someone who wants to focus more on stretching and workout recovery, Tone & Stretch is the place to be. Space is limited to 10 TRIBE members per class. Grip socks required (available for purchase).




Please note: Grip socks required (available for purchase).

Interested in Power Reformer but just starting out? No sweat. (Well, okay. Maybe a little.) Why not consider the Power Reformer Lite? It's a "lite" version of our most sought-after, signature class, designed to help you fight the force—but with a little less intensity. Space is limited to 10 TRIBE members per class.




Power Reformer is our signature class. This high energy workout combines strength training at a non-stop pace, with the core and balance training of a reformer. The pace will keep your heart rate elevated for the full 50 minutes to maximize full-body strength and ensure a high-intensity cardio workout. If you want lean, toned muscles, strength, endurance and fat-burning, this workout is for you. Structured in 15 minute increments covering upper body, legs and core, Power Reformer works every muscle and boosts metabolism, helping you to jack the gravitational forces that even the most dedicated men and women face every day. Space is limited to 10 TRIBE members per class.