Courtney Flores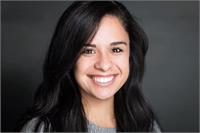 Method: Cardio Dance
Courtney was born and raised in the Monterey Bay of California, where she began dancing at 8 years old. She has trained in all styles of dance since then. Over the 6 years spent in LA as a professional dancer, she sought out every creative opportunity to gain experience and expand her knowledge of the entertainment industry. She has performed, assisted, and choreographed for many local LA artists, live shows, commercials, and music videos. Her pursuit in dance encouraged her to expand in health and fitness and has continued to support her in maintaining an active lifestyle.
Her class will always keep you on your toes as her influence of all styles contributes to the class. Hip-Hop is a given, but be ready to switch it up! Growth is right outside your comfort zone and she is all about the challenge. Most importantly, be ready for lots of fun, sweat & attitude!
Courtney Flores instructs the following:
Crush calories, improve coordination, and build core strength in a class that's part killer workout, part high-energy dance party.

Cardio Dance features easy-to-follow aerobic dance moves set to pulse-pounding music, along with muscle-toning burpees, tricep dips, and down-and-dirty glute work. In 50 minutes, you'll get a complete cardiovascular and strength workout, and maybe a few new moves to use at the club. No previous dance experience necessary!