Rich Tola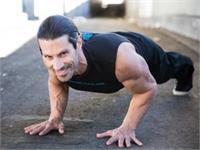 Method: Yoga
Rich has taught more than 25,000 students in over 2,000 yoga classes throughout the United States since he began teaching in 2006. Trained and certified at New York Yoga in Manhattan, Rich teaches a unique and challenging Vinyasa-based style of yoga know as Tola Yoga. His passion for fitness spans more than forty years, while his love for yoga began in 2004 and has been a major part of his everyday life ever since. Rich has produced more than 30 hours of instructional videos including his free Tola Yoga classes and lessons, his three DVDs; Yoga-to-Go, Yoga Survival Guide, 15 Minute Fat Burning Workouts, plus his yoga-inspired film, Boulevard Zen. In 2009, Rich founded a charity to teach the benefits of yoga to women and children survivors of domestic violence, The Boulevard Zen Foundation. Rich is a graduate of The Wharton School at The University of Pennsylvania and received his MBA from The Kellogg School of Management at Northwestern University.
Rich Tola instructs the following:
LAB5 Yoga classes are designed to promote a nurturing environment for practitioners at any level. This class will explore basic yoga postures, breathing techniques, and meditation strategies for deep relaxation and rejuvenation. Each posture will be synced to rhythmic breathing to create a gentle moving meditation. This class encourages balance, gratitude, and strong body awareness through proper alignment and spinal stability. The moderate flow of the class will build a heat in the body to promote opening in the body and mind. Come flow with us, LAB5 style. Please bring water, towel and a smile. Also, please sign up and reserve your class today, space is limited to 12 LAB5 community members.