James Dorfer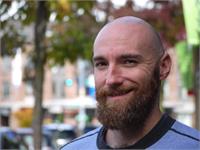 Methods: Reformer Pilates, Reformer: Tone and Stretch, Power Reformer, Jump Board, Mat Pilates
James was a professional dancer and musician and so much more. All of his life experience comes forward in his classes. His reformer classes tend to be thoughtful and fun, but he always tailors the class to his clients' fitness goals. He wants you to learn concepts of moving and posture while having fun and feeling it the next couple days, or 6! Nicknames he's had: Joe jr, Wizard, Nerd, Sargent, and at Tribe he might be known as the Dictator. He has many movement backgrounds and anatomical knowledge sources that will enhance your practice of Pilates and hopefully your daily life. Just come in, get ready to work it out and have fun! =)
James Dorfer instructs the following:
This classic Pilates Reformer class focuses on the body as a whole, to increase flexibility, strength, balance, agility, create a stronger core, improved mental well-being and a fuller range of motion. All while turning the abdominal muscles, lower back and hips into your body's powerhouse.

Because Reformer Pilates is a non-impact, balanced technique, it's great for just about anyone—from the super-fit, to beginners to those coming back from an injury. Space is limited to 10 TRIBE members per class. Grip socks required (available for purchase).




This class is a great way to get going with the TRIBE. We're talkin' low-intensity exercise that incorporates traditional Pilates principles, including, some mild strength training and lots of stretching using the unique Pilates reformer springs to lengthen you out.

Seriously, friend. If you're looking for a stress-free intro, a man or woman rehabilitating an injury, or simply someone who wants to focus more on stretching and workout recovery, Tone & Stretch is the place to be. Space is limited to 10 TRIBE members per class. Grip socks required (available for purchase).




Power Reformer is our signature class and is what sets TRIBE Fitness apart. It is a very unique workout that combines strength training at an unapologetic pace, with the core and balance training of a reformer. The pace will keep your heart rate elevated for the full 50 minutes to maximize full-body strength and ensure a high-intensity cardio workout. If you're looking for Pilates, this isn't the class. But if you want lean, toned muscles, strength, endurance and fat-burning, this workout is for you. Structured in 15 minute increments covering upper body, legs and core, Power Reformer works every muscle and boosts metabolism, helping you to jack the gravitational forces that even the most dedicated men and women face every day. Space is limited to 10 TRIBE members per class. Grip socks required (available for purchase).




This class blends together the best of Pilates, yoga, and body sculpting. Get a complete body workout through a high intensity and low impact class that tones your muscles with isolated movements, isometric exercises, and light weights complimented by a continual fat burning process. This class tones your seat, abdominals, thighs, arms as well as strengthens your legs, back, and improves your posture. You will use our own body weight for resistance targeting each of your muscle groups to the point of fatigue. Then, you will stretch those muscles in a way that promotes long and lean muscle growth developing a long and lean physique.

Classes utilize light weights, bands and, of course, TRIBE's ballet barre, to lengthen and align the body. This class is recommended for people of all levels. Space is limited to 12 TRIBE community members.

If your goals include rock-solid glutes, toned and shaped thighs, and super-cut arms (IOW, the bod of a God), then reserve your spot for Power Barre today. We'd love to have you! Grip socks recommended (available for purchase).