Lindsey Poisson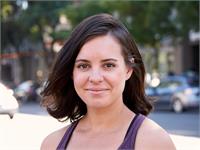 Methods: Yoga, Power Yoga Flow
Lindsey initially found yoga in 2012 while training for her first half marathon. She quickly found that yoga was more than just a complimentary workout but rather a way to use a physical practice as a tool to cultivate a meditative mind. Soon after she enrolled in Dana Lincoln's Teacher Training Immersion program at Prasada Yoga Center, receiving her RYT- 200 in Vinyasa Flow. From September to November of 2014 Lindsey spent two months in Mysore, India studying under Saraswathi at the Shri K. Pattabhi Jois Ashtanga Yoga Institute in order to deepen and explore her understanding of Ashtanga Yoga. At that time she also studied under Vinay Kumar, completing a specialized backbending course. She returned to Mysore in fall of 2015 to complete Vinay's rigorous 400hr+ teacher training in Prana Vashya Yoga. Lindsey has continued to teach a variety of styles, with the main focus of each class being safety and breath. Lindsey looks forward to sharing the joy, peace, and health benefits that yoga has brought her with others.
Lindsey Poisson instructs the following:
Yoga Flow classes take the basic yoga postures and link them through breath, movement and music for an amazing physical and uplifting practice. This class encourages balance, gratitude, and strength to aid in opening areas where release is needed while combining movement matched with the breath. The flow class builds heat in the body and opening occurs due to repetition of postures within a flowing sequence. These classes are perfect for those who like their yoga practice to feel like a dance. Over time, movement in the sequence becomes more fluid, the mind is able to relax and the practice becomes a moving meditation. Come flow with us, TRIBE style. Please bring water, towel and a smile. Space is limited to 12 TRIBE members.