Jaina Cole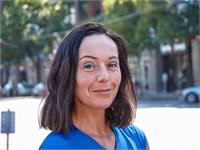 Methods: TRX, Tabata, Personal Training
Jaina has over three years experience working one on one with clients as well as large group TRX training classes. She holds a national certification and is TRX level 1 and 2 trained. She keeps her sessions interesting by bringing in sand bags, kettle bells, rip trainers, ropes and much more. She has a passion for helping her clients achieve their goals in a fun and respectful manner while building confidence in their abilities.
Known as a good listener, it's very important to her to hear her client's concerns and goals. Whether the goal is to lose a few pounds or much more, or issues with chronic pain or injuries, Jaina can modify work outs and accommodate needs. She works out daily using a wide variety of activities including: Crossfit, kick boxing, running, biking and weight lifting. She is a Seattle native and in her spare time volunteers with a local dog rescue.
Jaina Cole instructs the following:
Strong and Lean is an exciting class that is specifically programmed to increase your strength and cardiovascular fitness. We start with strength-specific programming, progressively training fundamental movements: Squat, Deadlift, Pressing and Pulling in various angles. We finish with higher intensity sets of a variety of movements and cool fitness implements including kettlebells, TRX, and medicine balls to to build your aerobic work capacity. It can be tough, but

everyone can do this

, and the results will be true strength, and a lean, highly functional, athletic body. Sneakers recommended.




HiiT class will be sweaty, challenging, exciting and FUN. This class will start with a dynamic warm up, followed by an ideal mix of strength and conditioning moves interspersed with cardio bursts (aerobic and anaerobic). Each burst will target different parts of the body, and because of the Tabata timing, it makes it easier to push yourself as hard as possible for 20 seconds.