Jaina Cole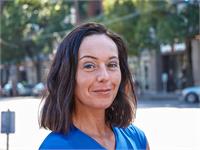 Methods: TRX, Tabata, Personal Training
Jaina has over three years experience working one on one with clients as well as large group TRX training classes. She holds a national certification and is TRX level 1 and 2 trained. She keeps her sessions interesting by bringing in sand bags, kettle bells, rip trainers, ropes and much more. She has a passion for helping her clients achieve their goals in a fun and respectful manor while building confidence in their abilities.
Known as a good listener, it's very important to her to hear her client's concerns and goals. Whether the goal is to lose a few pounds or much more, or issues with chronic pain or injuries, Jaina can modify work outs and accommodate needs. She works out daily using a wide variety of activities including: cross fit, kick boxing, running, biking and weight lifting. She is a Seattle native and in her spare time volunteers with a local dog rescue.
Jaina Cole instructs the following:
This class introduces the Tabata style of highly effective interval training developed by a team of researchers from Japan, a truly amazing option. The format incorporates short burst of intense effort for 20 seconds followed by a 10 second rest period. Tabata interval training will use a variety of equipment and variations so you never get bored.




This is a full body workout delivered through suspension training equipment from TRX developed by a Navy Seal and offers the ability to utilize the core through functional movements. It is a perfect mix of cardiovascular conditioning and strength training all in one great class.

LAB5 TRX will push each participant to a higher level of physical fitness in a fun and safe environment, the LAB5 way. Please sign up and reserve your class today, space is limited to 12 LAB5 community members.




Another LAB5 Fusion class! Tabata/TRX is a full body workout. It incorporates one's body weight along with resistance training using the TRX straps, sand bags, kettelbells, rip trainer and dumbbells. This high intensity interval training follows a specific format: 20 seconds of very high intensity exercise (e,g) sprints, 10 seconds of rest then repeating 8 times for a total of four minutes.




HiiT class will be sweaty, challenging, exciting and FUN. This class will start with a dynamic warm up, followed by an ideal mix of strength and conditioning moves interspersed with cardio bursts (aerobic and anaerobic). Each burst will target different parts of the body, and because of the Tabata timing, it makes it easier to push yourself as hard as possible for 40 seconds.