Amy Hollens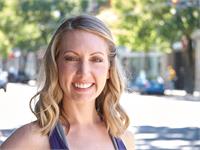 Methods: Power BARRE, Power Reformer
Originally from Orange County, Ca, Amy is a former professional dancer and certified Barre instructor, and has been teaching for over 10 years. As a professional dancer, she performed with numerous theatres in Southern California as well as places like Disneyland, House Blues Hollywood, and on ships with the Holland America Cruise Line. She spent seven years kickin' it as a Radio City Rockette in New York, where she first discovered Barre. She immediately fell in love with the technique because it combined two of her favorite things- dance and fitness. After sustaining a broken foot and undergoing shoulder surgery, Barre became her go-to during recovery as the best low-impact workout that had a high enough intensity to maintain her strength. About a year into working at TRIBE, she went through the Power Reformer training, so you can now see her in the front studio as well! Get ready for high energy, music based classes focused on specific muscle group strength and conditioning, with one or two (or three or four) jokes thrown in. She feels very blessed to have the opportunity to share her love of Barre and fitness with the TRIBE family!
Amy Hollens instructs the following:
Simply put, Power Reformer/Jumpboard is aerobic version of Power Reformer. And here's what makes it so fun—and so challenging:

Using an attachment that converts your traditional Pilates Reformer into a horizontal jumping machine, you can, with one, quick adjustment to the attachment's spring tension, jump (again, horizontally) on your reformer as if it were the floor. Cool, huh?

Welcome to Power Reformer Jumpboard, a choreographed cardio routine that uses the principles of Plyometrics to build speed and power through activation of the fast-twitch muscle fibers in your quadriceps.

In this class, you'll challenge your core, elevate your heart rate, improve coordination, burn calories and strengthen muscles. Space is limited to 10 TRIBE members per class. Grip socks required (available for purchase).




Power Reformer is our signature class. This high energy workout combines strength training at a non-stop pace, with the core and balance training of a reformer. The pace will keep your heart rate elevated for the full 50 minutes to maximize full-body strength and ensure a high-intensity cardio workout. If you want lean, toned muscles, strength, endurance and fat-burning, this workout is for you. Structured in 15 minute increments covering upper body, legs and core, Power Reformer works every muscle and boosts metabolism, helping you to jack the gravitational forces that even the most dedicated men and women face every day. Space is limited to 10 TRIBE members per class.




Please note: Grip socks required (available for purchase).

Interested in Power Reformer but just starting out? No sweat. (Well, okay. Maybe a little.) Why not consider the Power Reformer Lite? It's a "lite" version of our most sought-after, signature class, designed to help you fight the force—but with a little less intensity. Space is limited to 10 TRIBE members per class.




This class blends together the best of Pilates, yoga, and body sculpting. Get a complete body workout through a high intensity and low impact class that tones your muscles with isolated movements, isometric exercises, and light weights complimented by a continual fat burning process. This class tones your seat, abdominals, thighs, arms as well as strengthens your legs, back, and improves your posture. You will use our own body weight for resistance targeting each of your muscle groups to the point of fatigue. Then, you will stretch those muscles in a way that promotes long and lean muscle growth developing a long and lean physique.

Classes utilize light weights, exercise balls, bands and, of course, TRIBE's ballet barre, to lengthen and align the body. Space is limited to 12 TRIBE community members.

If your goals include rock-solid glutes, toned and shaped thighs, and super-cut arms (IOW, the bod of a God), then reserve your spot for Power Barre today. We'd love to have you! Grip socks recommended (available for purchase).