Ashleigh Shane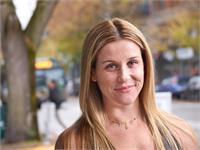 Method: Power Reformer, Power BARRE
Ashleigh discovered the magic that is yoga in 2008. She has been a dedicated student both on and off her mat ever since. An avid traveler, her yoga practice has been one of the few things with the constant ability to rival the thrill of seeing and experiencing a new place. Yoga has provided her with tangible tools to live a life inspired by authenticity and growth and she is continually moved by its transformative powers. She received her first 200 hour teaching certification in 2013, eager to share her passion and delight for yoga with those around her. Constant curiosity and her love of dance led her to become Barre certified in 2016 and she finds that teaching this new format is quite possibly the most fun you can have at "work". Her classes seek to uplift, inspire and challenge students to honor and celebrate where they are each and every day. She truly believes that movement, coupled with a wicked playlist and a little bit of sweat can remedy just about anything.
Ashleigh Shane instructs the following:
This class blends together the best of: Ballet, Yoga, Pilates, and Core Conditioning & body sculpting. Get a complete body workout through a high energy and low impact class that tones your muscles with isolated movements, isometric exercises, orthopedic stretches and light weights complimented by a continual fat burning process. This class tones your seat, abdominals, thighs, arms as well as strengthens your legs, back and improves your posture. You will use our own body weight for resistance targeting each of your muscle groups to the point of fatigue. Then, you will stretch those muscles in a way that promotes long and lean muscle growth developing a sleek micro-targeted ballet body for a long & lean physique. Classes utilize light weights, stretch bands and, of course, the beautiful ballet barre, to lengthen and align the body. The Ballet Barre is Utilized (*No dance experience is required). Please sign up and reserve your class today, space is limited to 12 TRIBE community members.




A medium intensity class that is a fusion of traditional Pilates, functional strength training, and a little sweat. This class is structured to truly be accessible to all levels, so the instructor will be giving you personal attention, customizing the movements for you.
This class is ideal for:
· Beginners who want to be introduced to our Signature Class.
· Members who want a little more work, muscle toning and lengthening, at an intermediate level.
· A medium level recovery from harder workouts.

Grip socks required (available for purchase).




A high intensity workout that combines Pilates principles, strength training, and quality movement, at a pace that keeps your heart rate elevated to ensure a full body, cardiovascular workout. More importantly, you will leave with a high metabolism that continues to burn body fat. The class will begin with a warm-up, and end with a cool-down and stretching. Bring water, a towel, and be ready to have fun, listen to great music, and sweat! Don't worry, your instructor will modify for you and help you through
it.

This class is ideal for:
-Intermediate and advanced fitness levels (courageous beginners usually do just fine).
-Those who want the muscle tone, fat burning, and elevated metabolism that results from a well-designed, full body workout.
-Members who want to work hard, but in a safe environment, using only quality movements.
-Results!

Grip socks required (available for purchase).