Leslie Woodward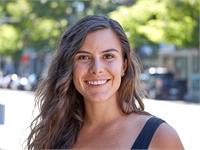 Methods: Yoga, Power Yoga Flow
Leslie is a holistic nutritionist and yoga therapist recently having relocated to Seattle from Aspen, Colorado. In her nutrition practice, she works with clients wanting to lose weight, heal digestive issues, and increase overall vitality. She also specializes in creating custom cleanses to make the detox experience safer and more efficient. As a yoga teacher, Leslie specializes in an alignment-focused Vinyasa yoga as well as more therapeutic stretch classes. Leslie is also a Phoenix Rising Yoga Therapy practitioner, which is a combination of yoga and talk therapy, where assisted movement and simple dialogue are combined to increase relaxation and awareness, heal emotional trauma, and improve decision-making skills.
Certifications: Health Coach, Institute for Integrative Nutrition
Yoga Teacher, Kripalu School of Yoga
E-RYT, Yoga Alliance
Leslie Woodward instructs the following:
LAB5 Yoga classes are designed to promote a nurturing environment for practitioners at any level. This class will explore basic yoga postures, breathing techniques, and meditation strategies for deep relaxation and rejuvenation. Each posture will be synced to rhythmic breathing to create a gentle moving meditation. This class encourages balance, gratitude, and strong body awareness through proper alignment and spinal stability. The moderate flow of the class will build a heat in the body to promote opening in the body and mind. Come flow with us, LAB5 style. Please bring water, towel and a smile. Also, please sign up and reserve your class today, space is limited to 12 LAB5 community members.