Susan Foley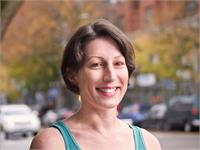 Methods: Reformer Pilates, Mat Blast, Personal Training
Susan holds a B.A. in Theater Arts from the University of California at Santa Cruz and is also trained in Ballroom Dance and instruction. She originally came to Pilates through Lisa Graham, founder and owner of Agile Monkey Pilates in Santa Cruz, California. Pilates taught Susan how to understand and work with many of her postural deviations, with which she constantly struggled as a performer. She studied for several years with Jeannette Palmer who inspired and encouraged her to pursue teaching. Susan received her training and certification from Pilates Academy International in New York City. She taught as a senior instructor at Pilates on Fifth and as a recurring substitute instructor at Mark Morris Dance Center. She welcomes students of all fitness levels and incorporates modifications appropriate for each individual to ensure that the everyone is working optimally and safely for their own body, skill level, and background.
Susan Foley instructs the following:
This classic Pilates Reformer class focuses on the body as a whole, to increase flexibility, strength, balance, agility, create a stronger core, improved mental well-being and a fuller range of motion. All while turning the abdominal muscles, lower back and hips into your body's powerhouse.

Because Reformer Pilates is a non-impact, balanced technique, it's great for just about anyone—from the super-fit, to beginners to those coming back from an injury. Space is limited to 10 TRIBE members per class. Grip socks required (available for purchase).




Power Reformer is our signature class. This high energy workout combines strength training at a non-stop pace, with the core and balance training of a reformer. The pace will keep your heart rate elevated for the full 50 minutes to maximize full-body strength and ensure a high-intensity cardio workout. If you want lean, toned muscles, strength, endurance and fat-burning, this workout is for you. Structured in 15 minute increments covering upper body, legs and core, Power Reformer works every muscle and boosts metabolism, helping you to jack the gravitational forces that even the most dedicated men and women face every day. Space is limited to 10 TRIBE members per class.




This class is a great way to get going with the TRIBE. We're talkin' low-intensity exercise that incorporates traditional Pilates principles, including, some mild strength training and lots of stretching using the unique Pilates reformer springs to lengthen you out.

Seriously, friend. If you're looking for a stress-free intro, a man or woman rehabilitating an injury, or simply someone who wants to focus more on stretching and workout recovery, Tone & Stretch is the place to be. Space is limited to 10 TRIBE members per class. Grip socks required (available for purchase).




Wanna blast your midsection into shape? This is the class for you! Using traditional Mat Pilates protocols (the use of exercise mats instead of traditional Reformer equipment), light weights, resistance bands, and standing exercises, you'll strengthen your body, define muscle, jump start your metabolism, burn fat, and increase your flexibility. All it takes is a little resistance and counter-resistance—and a whole lotta yes I can. Grip socks recommended (available for purchase).