Susan Foley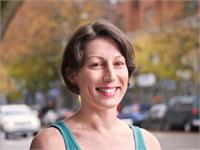 Methods: Reformer Pilates, Mat Blast, Personal Training
Susan holds a B.A. in Theater Arts from the University of California at Santa Cruz and is also trained in Ballroom Dance and instruction. She originally came to Pilates through Lisa Graham, founder and owner of Agile Monkey Pilates in Santa Cruz, California. Pilates taught Susan how to understand and work with many of her postural deviations, with which she constantly struggled as a performer. She studied for several years with Jeannette Palmer who inspired and encouraged her to pursue teaching. Susan received her training and certification from Pilates Academy International in New York City. She taught as a senior instructor at Pilates on Fifth and as a recurring substitute instructor at Mark Morris Dance Center. She welcomes students of all fitness levels and incorporates modifications appropriate for each individual to ensure that the everyone is working optimally and safely for their own body, skill level, and background.
Susan Foley instructs the following:
This is a workout that is built on the principles of Joseph Pilates. His method is the art of controlled movements, which should look and feel like a workout when properly structured. If practiced with consistency, Pilates improves flexibility, builds strength, develops control and endurance in the whole human body. It puts emphasis on alignment, breathing, form, technique, developing a powerfully strong core, and improving coordination and balance. Pilates' system allows for different exercises to be modified in range of difficulty from beginner to advanced. Intensity can be increased over time as the body conditions and adapts to the exercises. Some of the movements are technical, but your instructor will help you through them, and your skill will develop.

Grip socks required (available for purchase).




Mat Blast incorporates traditional Mat Pilates with light weights, resistance bands, and standing exercises to Blast your midsection into shape. By integrating resistance and counter-resistance, these exercises will strengthen the body, define muscle, jump start the metabolism, burn fat, and increase flexibility.