David Lyman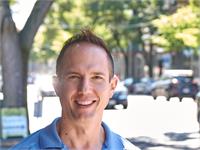 Methods: Reformer Pilates, Reformer: Tone and Stretch, Personal Training (via Pilates, TRX, HIIT, and Foam Rolling)
A Certified Personal Trainer, David believes fitness should be fun first! David loves helping people restore functional stability after injury. He has five years of experience people like you to the world of fitness. David loves researching difficult issues for clients, and he relentlessly keeps up with new scientific evidence as it emerges. Ask David each month about a one-on-one exercise regimen to achieve your personal goals, and we will re-visit the goals monthly. After successfully recovering from ankle, knee, and shoulder injuries, David developed a lifelong commitment to proper movement patterns and an obsession for studying fitness. David's certifications include: – Pilates Academy International – All Populations Reformer 1 and 2 Certified – Pilates Academy International – All Populations Mat 1 and 2 Certified - NASM Certified Personal Trainer (CPT) – NASM Performance Enhancement Specialist (PES) – NASM Corrective Exercise Specialist (CES) – NASM Weight Loss Specialist (WLS) – Certified PiYo instructor – Registered TRX instructor David enjoys 100+ mile bicycle rides and has completed the STP, RSVP, and two international bicycle tours. He ran a marathon and two triathlons. He enjoys muscle building, as well as weight loss (he is 30 pounds below his high weight). David recently spent a year in Hawaii, studying advanced fitness techniques. David has performed as a dancer and a singer. When not at the gym, you can find him training in local parks, running, biking, or meditating in the great outdoors.
David Lyman instructs the following:
A low intensity class that incorporates traditional principles of Joseph Pilates, some mild strength training, and a lot of stretching using the unique reformer springs to lengthen you out.

This class is ideal for:

· Beginners who want to be introduced to our workouts.
· Those who are rehabilitating injuries.
· When you want to focus on stretching and recovery from your hard workouts.

Grip socks required (available for purchase).




This is a workout that is built on the principles of Joseph Pilates. His method is the art of controlled movements, which should look and feel like a workout when properly structured. If practiced with consistency, Pilates improves flexibility, builds strength, develops control and endurance in the whole human body. It puts emphasis on alignment, breathing, form, technique, developing a powerfully strong core, and improving coordination and balance. Pilates' system allows for different exercises to be modified in range of difficulty from beginner to advanced. Intensity can be increased over time as the body conditions and adapts to the exercises. Some of the movements are technical, but your instructor will help you through them, and your skill will develop.

Grip socks required (available for purchase).