Melinda Ritchie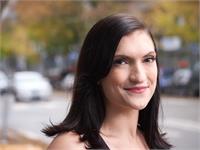 Methods: Aerial Conditioning, Power Yoga Flow
Melinda was born and raised in the greater Seattle area and has returned home after having lived in Los Angeles for over a decade. In LA, Melinda attended Loyola Marymount University where she majored in Dance/Kinesiology, and after school became a featured soloist with Diavolo Dance Theater, touring nationally and internationally year-round for ten years. Melinda still performs with Diavolo intermittently, but has 'retired' from being a professional performer-acrobat full time. In addition to teaching Aerial and Yoga at TRIBE, Melinda does Quality Analysis at Microsoft and is attending UW's Foster School of Business to receive her MBA, (class of 2019). Melinda has Pilates Academy International reformer training and has been teaching dance and fitness extensively since 2001, including major university programs and non-profit outreach to at-risk populations. Melinda's classes infuse extra elements of core-connection strengthening, following Melinda's passion for total body wellness and injury/pain prevention, but more than anything each class is bursting with delight and spunk – because working your body (and mind!) should be FUN!!!
Melinda Ritchie instructs the following:
In this class you'll use a low-flying, soft fabric sling to support your body as you explore yoga postures and key Pilates principles on the floor—and in the air. (C'mon! You can do it!)

Our Aerial Conditioning class is a blast, designed to strengthen your core and upper body, while cultivating balance and exercising your full range of movement with guided support.

Class emphasis is placed on breath awareness, dynamic alignment and efficiency as a source of power. Embrace gravity—and defy it. Grip socks recommended (available for purchase).




Yoga Flow classes take the basic yoga postures and links them through breath, movement and music for an amazing physical and uplifting experience that will totally get your groove on. This class encourages balance, gratitude, and strength to aid in opening areas where release is needed while combining movement matched with the breath.

Yoga Flow is perfect if you like your yoga practice to feel like a dance. Over time, movement in the sequence becomes more fluid, the mind is able to relax and the practice becomes a moving meditation. Who knew?