Janna Judy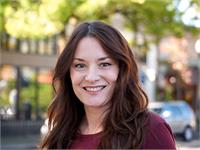 Methods: Reformer Pilates, Power Reformer, Jumpboard, Personal Training
Janna is a comprehensively classically trained Pilates instuctor, completing her teacher training in early 2010. Certified through the PMA. Always learning, she discovered SPX (power Pilates) and was certified with Sebastien Lagree. Recently completed Barre Training with Booty Barre creator Tracey Mallett, finding her inner swan at the barre. Janna believes the mind body connection is important in your workout. Intuitive and observant, with a focus on form and alignment, she will create a thoughtfully fun and sweaty TRIBE experience. When not in the studio, Janna can be found enjoying the outdoors with her Shiba Inu, admiring art or kicking butt at Scrabble.
Janna Judy instructs the following:
This classic Pilates Reformer class focuses on the body as a whole, to increase flexibility, strength, balance, agility, create a stronger core, improved mental well-being and a fuller range of motion. All while turning the abdominal muscles, lower back and hips into your body's powerhouse.

Because Reformer Pilates is a non-impact, balanced technique, it's great for just about anyone—from the super-fit, to beginners to those coming back from an injury. Space is limited to 10 TRIBE members per class. Grip socks required (available for purchase).




Power Reformer is our signature class and is what sets TRIBE Fitness apart. It is a very unique workout that combines strength training at an unapologetic pace, with the core and balance training of a reformer. The pace will keep your heart rate elevated for the full 50 minutes to maximize full-body strength and ensure a high-intensity cardio workout. If you're looking for Pilates, this isn't the class. But if you want lean, toned muscles, strength, endurance and fat-burning, this workout is for you. Structured in 15 minute increments covering upper body, legs and core, Power Reformer works every muscle and boosts metabolism, helping you to jack the gravitational forces that even the most dedicated men and women face every day. Space is limited to 10 TRIBE members per class. Grip socks required (available for purchase).




Simply put, Power Reformer/Jumpboard is aerobic version of Power Reformer. And here's what makes it so fun—and so challenging:

Using an attachment that converts your traditional Pilates Reformer into a horizontal jumping machine, you can, with one, quick adjustment to the attachment's spring tension, jump (again, horizontally) on your reformer as if it were the floor. Cool, huh?

Welcome to Power Reformer Jumpboard, a choreographed cardio routine that uses the principles of Plyometrics to build speed and power through activation of the fast-twitch muscle fibers in your quadriceps.

In this class, you'll challenge your core, elevate your heart rate, improve coordination, burn calories and strengthen muscles. Space is limited to 10 TRIBE members per class. Grip socks required (available for purchase).