Ron Moodey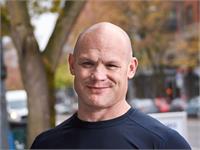 Methods: Power Reformer, Personal Training
Certifications: NASM-CPT, IKFF CKT Level One Kettlebell, Crossfit Endurance, TRX Trainer Level 2, TRX Sports Medicine, STOTT Pilates trained. Ron has always been interested in fitness, health and sport. He has personally trained for and completed 3 marathons, and has coached others to successfully run marathons. He has worked as the district fitness manager for Gold's Gym in central California, developing a training program that focuses on whole body movement, strength and endurance. He is STOTT Pilates trained, NASM-CPT certified, Crossfit Endurance, as well as TRX group and Sports Medicine certified. Ron finds great satisfaction in helping and motivating others to successfully reach their fitness goals, whether it is weight loss, health, strength, mobility, or preparing for a marathon. Your workouts with him will always be: different, challenging but achievable, and of course... fun.
Ron Moodey instructs the following:
A high intensity workout that combines Pilates principles, strength training, and quality movement, at a pace that keeps your heart rate elevated to ensure a full body, cardiovascular workout. More importantly, you will leave with a high metabolism that continues to burn body fat. The class will begin with a warm-up, and end with a cool-down and stretching. Bring water, a towel, and be ready to have fun, listen to great music, and sweat! Don't worry, your instructor will modify for you and help you through
it.

This class is ideal for:
-Intermediate and advanced fitness levels (courageous beginners usually do just fine).
-Those who want the muscle tone, fat burning, and elevated metabolism that results from a well-designed, full body workout.
-Members who want to work hard, but in a safe environment, using only quality movements.
-Results!

Grip socks required (available for purchase).




This is a full body workout delivered through suspension training equipment from TRX developed by a Navy Seal and offers the ability to utilize the core through functional movements. It is a perfect mix of cardiovascular conditioning and strength training all in one great class.

LAB5 TRX will push each participant to a higher level of physical fitness in a fun and safe environment, the LAB5 way. Please sign up and reserve your class today, space is limited to 12 LAB5 community members.




A fun, high energyclass with the best of both worlds. A full-body workout that will challenge your strength and stability through all planes of movement, while maintaining your heart rate at a high, cardiovascular state. The TRX suspension requires you to hold a quality plank position while strength training. The reformer
challenges you to move the uniquely increasing loads using springs,while on a moving surface. Don't forget your grip socks, workout shoes, and a towel!