Ron Moodey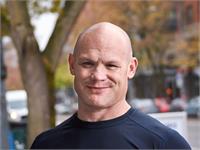 Methods: Power Reformer, Personal Training
Certifications: NASM-CPT, IKFF CKT Level One Kettlebell, Crossfit Endurance, TRX Trainer Level 2, TRX Sports Medicine, STOTT Pilates trained. Ron has always been interested in fitness, health and sport. He has personally trained for and completed 3 marathons, and has coached others to successfully run marathons. He has worked as the district fitness manager for Gold's Gym in central California, developing a training program that focuses on whole body movement, strength and endurance. He is STOTT Pilates trained, NASM-CPT certified, Crossfit Endurance, as well as TRX group and Sports Medicine certified. Ron finds great satisfaction in helping and motivating others to successfully reach their fitness goals, whether it is weight loss, health, strength, mobility, or preparing for a marathon. Your workouts with him will always be: different, challenging but achievable, and of course... fun.
Ron Moodey instructs the following:
Power Reformer is our signature class. This high energy workout combines strength training at a non-stop pace, with the core and balance training of a reformer. The pace will keep your heart rate elevated for the full 50 minutes to maximize full-body strength and ensure a high-intensity cardio workout. If you want lean, toned muscles, strength, endurance and fat-burning, this workout is for you. Structured in 15 minute increments covering upper body, legs and core, Power Reformer works every muscle and boosts metabolism, helping you to jack the gravitational forces that even the most dedicated men and women face every day. Space is limited to 10 TRIBE members per class.




Strong and Lean is an exciting class that is specifically programmed to increase your strength and cardiovascular fitness. We start with strength-specific programming, progressively training fundamental movements: Squat, Deadlift, Pressing and Pulling in various angles. We finish with higher intensity sets of a variety of movements and cool fitness implements including kettlebells, TRX, and medicine balls to to build your aerobic work capacity. It can be tough, but

everyone can do this

, and the results will be true strength, and a lean, highly functional, athletic body. Sneakers recommended.




Please note: Grip socks required (available for purchase).

Interested in Power Reformer but just starting out? No sweat. (Well, okay. Maybe a little.) Why not consider the Power Reformer Lite? It's a "lite" version of our most sought-after, signature class, designed to help you fight the force—but with a little less intensity. Space is limited to 10 TRIBE members per class.




HiiT class will be sweaty, challenging, exciting and FUN. This class will start with a dynamic warm up, followed by an ideal mix of strength and conditioning moves interspersed with cardio bursts (aerobic and anaerobic). Each burst will target different parts of the body, and because of the Tabata timing, it makes it easier to push yourself as hard as possible for 20 seconds.